About Me
Hiya I'm Tonya! I'm an avid psper, have been for a few years and finally have me a blog that I've been working on slowly getting stuff added to. I started writing tuts and recently started making masks and templates. I LOVE to see creations you've made with my things, if you'd like to email me please do so at aquaspinner@gmail.com ................................................. My TOU are as follows: All of my items are personal use only NO Commercial Use, please do not share (distribute) my stuff in groups, just send people here to grab please. ♥ Tutorial writers, if you wish to use my stuff in your tutorials, of course I am honored! You're more than welcome to use my stuff in them, I only require that you link to me and send people here to grab the goodies that you are using in the tut. ................................................. Hope you'll enjoy what I have for ya and thanks for stopping by. ♥
View my complete profile

Cluster Frame TOU
Thank you SO much for being so interested in my cluster frames. I love that you enjoy using them.
However I do have a request, please do NOT credit me as the cluster frame on your tags. Although I assembled it, I do not believe I deserve any such credit. If anything, please list Scrapkit by, (assuming you didn't add other bit by a different designer to your tag of course). I'd prefer not be given credit for simply assembling the cluster frame. Thank you ♥

Sunday, July 8, 2018
Pink is my Color tutorial - by Tonya
This tutorial was written by Tonya of Tonya's Temptations on 7/7/18 in PSP X5, however any version should work fine. Any resemblance to any other creation out there is purely coincidental and unintended. Please do not copy my tutorial either in full, or in part, or claim as your own. Please do not re-distribute my tutorial, if you wish to share it, please share the link to my blog, thank you!
Isn't this kit the most perfect name? Pinky T thinks so!
..................................
Needed Supplies:
Amazing art of Elizabeth Austin, you can get the image and tube I used in package 20
here at CDO
or individual
tube 20-1 here
. Please do not use her art without license to do so.
Scrapkit by the Chaos Priestess - ScrapCP_Pink It Up. You can purchase this scrapkit
here at CDO
.
Mask MPM_mask18 - by Millie which you can get from her blog
here
.
I am big on using filters, I used (however some of them are not required for doing the tag):
• Muras Meister Copies
• Toadies What Are You
• Penta.com Jeans
• any filters you like to use to do your text
Alright let's get this tagging started!
..................................
Open up a new canvas 750x750 in psp, I started mine with the white background, you can close it off later if you prefer transparent tags, it just helps me to see what I am doing better.
Open up element: ScrapCP_PinkItUp-Frame2 and paste onto your blank canvas, re-size a lil whatever your preferences are - I re-sized mine by 85%.
Click inside the 2 blank frames with your magic wand tool, I have my tolerance set at about 25. Don't forget to select the stuff behind the bow too, otherwise well you'll see why later :) Expand your selections by 10 (you can find this too under Selections > Modify > Expand). Invert your selection and open any paper(s) you wish to use. I used papers 7 & 10. Paste paper 7 underneath the frame, and re-size so you don't have cut-off edges, I re-sized by 65%. Press delete so you only have it on the inside of the frame. Paste paper 10 the same way and again delete.
Now your paper 7 layer (the gray one) select that layer and apply Penta.com Jeans filter:
Duplicate this layer and change the blend mode to Multiply on it so the effect is not so light-colored. On Paper 10 change the blend mode to Overlay.
The next bits is mostly just organizing the elements you want to use on your tag. I used element 12, re-sized by about 75% and placed on the far right of the frame (see my tag for reference) and then I duplicated and mirrored it. On the duplicated layer, I took my raster deform tool and just rotated it to the right a little. Didn't change the size in any way to deform the element just to give it a variety in placement to add a little depth.
I then pasted element 50 rotating by 90 degrees so I could lay it on the bottom of the frame, duplicated and flipped and mirrored it so they were alternating on each side of the frame. Resize each layer to your liking and place however you like with Raster Deform tool again.
Element 46 re-size to your liking and place around the frame and duplicate a few times too a bit of PINK to the tag. After all this is a Pink It Up kit haha.
Now taking element 46 again, be on your background (white) layer and paste it, re-size by about 55%. On this layer go to Muras Meisters Copies and choose the Encircle setting. Mine shows a blue bg color no clue how that got there it doesn't matter though what that is.
Now on that layer apply Millie's mask (or whatever mask you like best), do not merge your mask layer yet! Take your raster deform tool and in the upper right corner, take that and drag it in. What you are looking for is to just have a mask floral layer, I did this instead of using the typical paper mask that I usually do. Now once you are happy, merge group and what I did is re-sized a smidge lower and then moved down to the lower left, then I duplicated and mirrored and duplicated and flipped etc - so you have 4 total all around the background of your tag. I could have left it big size, but I think the effect is nicer smaller sized and duplicated etc.
I did this same technique with element 20 but I only did the duplicate once and have it upper and lower it is meant to just give a little bit of darkness into the wonderful pink bg.
On your top layer place your tube of choice. Re-size as needed to your preferences.
Continue adding elements to your liking there is so much in this kit its hard to be minimal on them, but that is all personal preference of course!
Underneath the paper layers of your frame, paste the Wordart 2 element in. I duplicated this layer, and brought it below the original one. Make sure that your materials palette colors are set to WHITE here. Otherwise you may get some funky unintended glows. I applied Toadies What Are You filters to the duplicated (bottom) layer of the wordart. Both the X & Y dose set at 20 which should be a default setting I believe. If not just change it to that.
Now of course you want to apply any drop shadows to your elements and tube. Drop shadow is crucial to adding a bit of depth so your creation is not so flat.
I like to crop my creation at this point too, make sure you are not cutting off the masked layers at all. What I do for this is duplicate the white background layer, change the color to a dark gray so you can easily see your masks - then crop to your liking. You can either leave it full sized or re-size at this point to whatever your tag size liking is. I like big so I left it. I then added the credits for the artist and kit designer and my tag line. If you re-size please do that first then add credits so they are crisp and clear!
Then just simply do your text and add any effects you like.
I also decided to make this into a wallpaper too:
You can download it
here
, in size 1920x1080.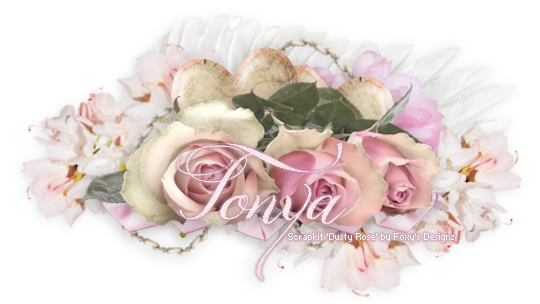 Labels